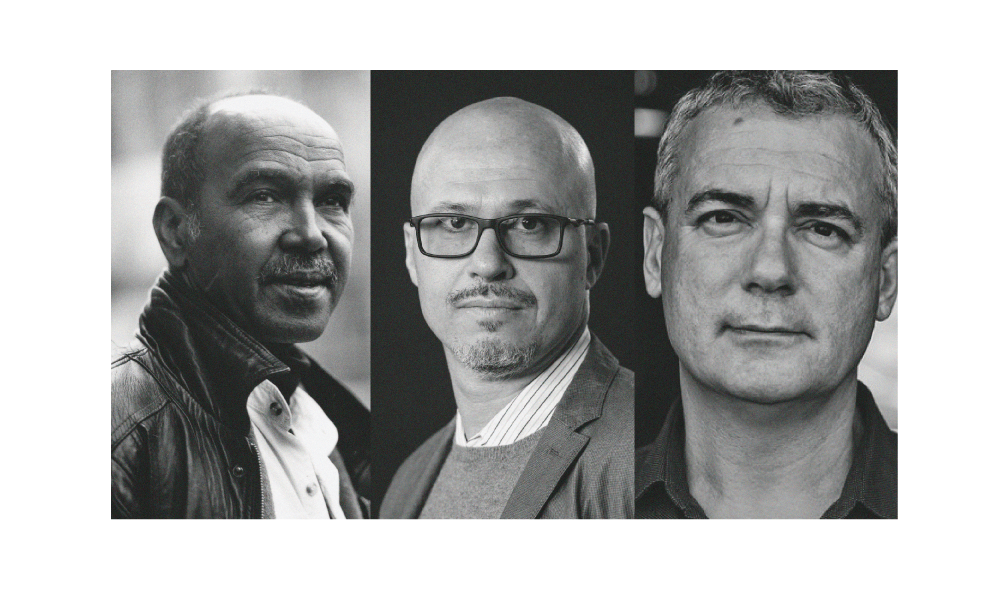 This event on Tuesday, September 6 at 5:30pm ET at Weis Cinema, Bard College, brings together in person three esteemed writers—Nuruddin Farah, Ilija Trojanow, and Aleksandar Hemon—to read from and discuss their work. As suggested by the titles North of Dawn (Farah) and Nowhere Man (Hemon), all three writers are concerned in their work with questions of place and displacement, of cultural difference and shared humanity, and of what Trojanow in his recent work calls "utopian narratives." Each also has deep personal and professional connections to more than one language, and together they comprise a knowledge of literatures that is truly stunning in its diversity, including works composed in Arabic, Bulgarian, German, Serbo-Croation, and Somali, among other languages. All three authors are also active in a plurality of genres and media, which taken together includes novels, short stories, criticism, plays, film and television scripts, and music. On this evening, they will read and discuss their work and explore common concerns and points of difference, and will invite the audience to join in the conversation.
Nuruddin Farah is the author of many novels, most recently Hiding in Plain Sight and North of Dawn. He has also written extensively in other genres, including short stories, plays, and essays. His non-fiction work includesYesterday, Tomorrow: Voices from the Somali Diaspora and in-depth interviews with literary authors. He is currently working on a book that deals with torture and the history of Ethiopia. His work has won prominent international awards, including the Premio Cavour, the Neustadt Prize, and the Lee Hochul Literary Prize for Peace, and he has recently been inducted into the American Academy of Arts and Sciences. He is currently on leave from Bard College, where he is Distinguished Professor of Literature.
Ilija Trojanow is a writer, essayist, translator, editor, publisher, and filmmaker. His novels include Die Welt ist groß und Rettung lauert überall (The World is Big and Salvation Lurks around Us) and Der Weltensammler (The Collector of Worlds). He is the recipient of many prizes and awards, including the Bertelsmann Literature Prize, Marburg Literature, and the Leipzig Book Fair Prize. His writing has been translated into Spanish, Russian, Czech, Bulgarian, Dutch, English, French, Polish, and Arabic. As a political activist, he has recently founded Der utopische Raum, a multimedia platform for debate of visionary, provocative thinking.
Aleksandar Hemon is the author of the novelThe Lazarus Project and three collections of stories, Nowhere Man, The Question of Bruno, and Love and Obstacles and has published stories, essays, and criticism in The New Yorker, Esquire, The New York Times, and other venues. He has also written for television and is co-writer of the screenplay for Matrix Revolutions. Hemon has been has been awarded a Guggenheim Fellowship and a MacArthur Fellowship and has been a finalist for the National Book Award and National Book Critics Circle Award (twice). He is Professor of Creative Writing at Princeton University.